Rent a car today
Lyft has car rentals options when you need reliable wheels with no wait times.
Rent with Lyft
We've got the wheels, and the always-available perks, to get you where you need to go.
Faster pickups
Hit the road in minutes with our expedited experience. Enjoy complimentary water and a phone charger.
Go the extra mile
With unlimited miles and no mileage fees, you can really go the distance.
We'll fill up the tank
Never worry about finding the closest gas station. We always charge the local market rate for gas, with no extra fees.
Rent with Sixt
Rent with our partner Sixt and enjoy special perks that are always available for the Lyft community.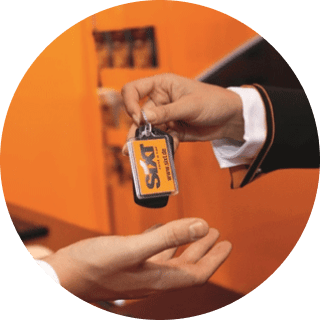 Quick pickups
Booking through Lyft allows you to have access to Sixt's expedited pickup where available. Due to COVID, procedures may be different than normal.
Select a specific car
Choose the exact make and model of your rental before pick up, and it'll be waiting when you arrive.
$10 Lyft ride credit
Easily get home after dropping off your rental with a $10 ride credit.